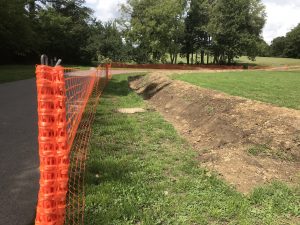 In recent years there have been a number of instances when irresponsible joyriders have driven their cars across the grass at East Court, causing immense damage to the surface.  In addition, a group of Travellers moved onto the Estate illegally earlier this year leaving much rubbish and hazardous waste behind them.
East Grinstead Memorial Estate has been discussing these problems with MSDC for some time now, and we are pleased to report that long-planned ditches and bunds have now been constructed alongside the main estate road. In addition, a number of tarmaced passing spaces have been created which should negate the need for drivers to go on the grass to pass other cars.
In addition, it's hoped that the ditches will provide a wildlife corridor for species such as Great Crested Newts, to move safely across the open spaces.